Features
Lighting and power points
Tool cabinets
Filter regulator
2 Sliding doors
Viewing windows
Paint pocket filters
Spray air is available
2 Speed air flow system
Integrated power lock out
Fully insulated and painted cabin
Repairing of aluminium vehicles
Minimises risk of metal contamination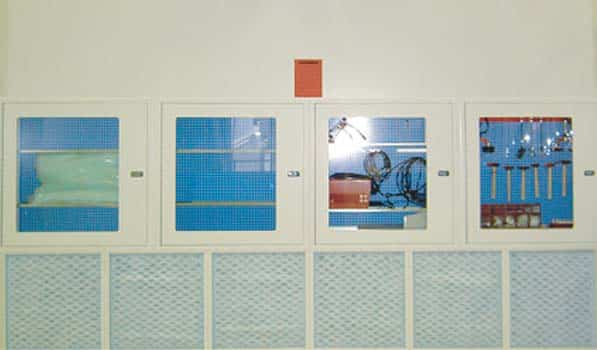 Completely Australian made
The Lowbake Aluminium Repair Room is designed to enable efficient repairs of aluminium vehicles without risk of metal contamination. The large cabin has 2 wide sliding doors that allow a vehicle to be wheeled in on trolleys or straightening benches. The machinery has a 2-speed air flow design with slow speed selection for general working and gluing operations. In this mode, electricity is made available through single three phase power points.
Efficient Repairing of Aluminium Vehicles
Once work is complete, high airflow speed is selected allowing the operator to spot spray primer prior to bringing the vehicle out into the general workshop. Spray-gun air is only available in high airflow mode. Lowbake also provides flush fitting lockable tool cabinets to keep the 'aluminium use only' tools secure.  All personnel entry doors to the aluminium repair booth are self-closing and come complete with viewing windows.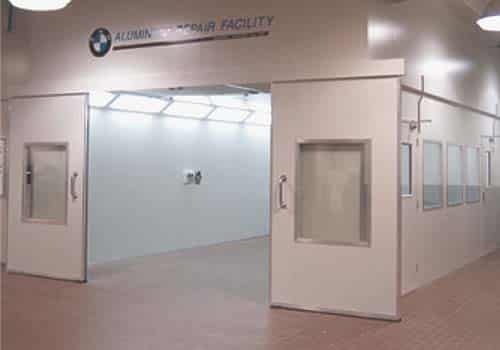 Outside of Aluminium Repair Room
Aluminium Repair Room Technical Data
| | | | | | |
| --- | --- | --- | --- | --- | --- |
| Power Supply | Frequency | Current | Air Volume | Noise | Packing |
| 415 V | 50 Hz | 35 amps | 27000 m/h | 70 dba | 1 x 20 iso container |
Aluminium Repair Room – Brochure