Pneumatic Positioned Lift
Features
High production
Low maintenance
Self-lube bushings
Festooning systems
AC/DC units available
Safe for hazardous areas
Pneumatic power source
Safe for heavy paint applications
Easily accessible operator controls
In-line filter / regulator / lubricator
Alternative power sources available
Custom product conversions available
Moisture separator ensures longer lasting
Eliminates Risk
Lowbake are the agents for the American made LPI Pneumatic accessory equipment.  The scissor lift is operated by air for safety and is suitable for use in hazardous areas such as paint spraybooths.  By using compressed air as power, it eliminates the risk of sparking and igniting flammable vapours.
Easily accessible operator controls
This lift is easily manoeuvred and can be utilized inside or outside of the booth.  Various size scissor lifts are available with many options.  The scissor lift can be moved manually or rail driven to suit any application.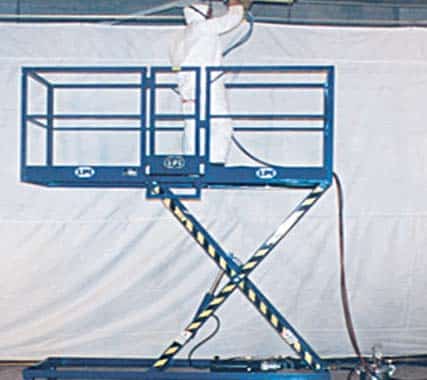 Pneumatic Manual Positioned Lift Specifications
Pneumatic / hydraulic power source
Portable models include:
Inherently safe in painting / finishing
Easy to use transport handle kit for mobility
Atmospheres
Between paint lines or processes
Minimal installation
Alternative power sources available
Quick and easy connection to air source
Acct. units available
Operator capacity of 500 lbs
Custom product conversions
Pneumatic Positioned Lift – Brochure