Powerful extraction
Auto stop/start
Easy clean filter
Reverse pulse filter clean
Super quiet operating
Micro dust particles
Exhausted throughout
Ergonomic power and air connection
Wall plate with hose
Hangers and services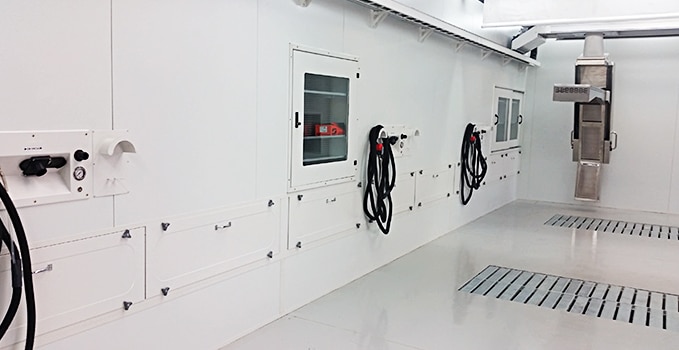 About Ducted Turbine Sanding System
The Lowbake solution for the ultimate in high efficient dry sanding operations is to install a dedicated Turbine Ducted Sanding Station.  These units can be installed in a shop, dedicated work bays or preparation areas.  They provide easy access to sanders and services without time wasted in searching for equipment or power.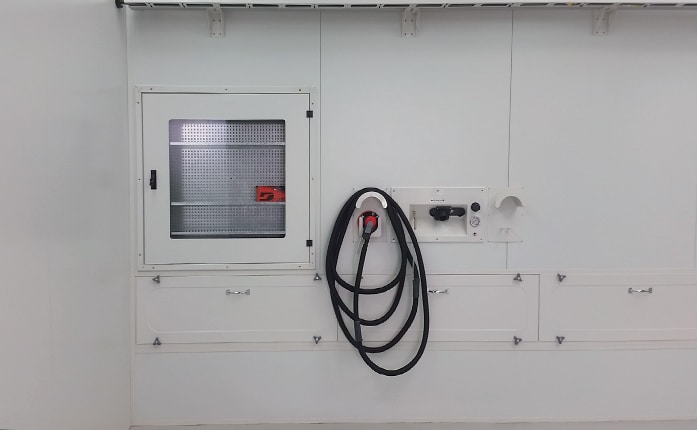 The Lowbake Boom and Turbine Sanding system is the ideal solution for dry sanding in your workshop. The system consists of a 6 meter articulated boom arm connected to a powerful Turbine dust filter system. The mobile service arm, which houses the wiring and hoses for the different work units, allows the control unit to be moved to different work zones. Installation carried out at an above-ground height of 3 meters, is considerably simplified thanks to an attachment hinge that allows this to be adopted across a vast range of factory layouts.
The highly reliable extraction unit with the side channel blower system, specially designed to extract the dust generated by dry sanding of filters and plasters; a friction-free and wear-free operating process minimises maintenance and ensures outstanding reliability. The turbine dust filter system captures the dust in a filtration cartridge, which is cleaned by automated pneumatic system.
.
Mobile service arm
Steel structure
Movable work station
Extremely versatile unit
Houses wiring and hoses
Duct extractor
Filtration catridge
Low maintenance
Outstanding reliability
Extraction unit
Automatic pneumatic system
Uses a nylon bag to capture dust
Automated air pulse filter cleaning system
Each system is engineered to accommodate a variety of tools and processes.  These stations give the user more freedom, enabling the equipment operator to maneuver around difficult areas.  The system has a single turbine with reverse pulse air filter cleaning for ease of maintenance.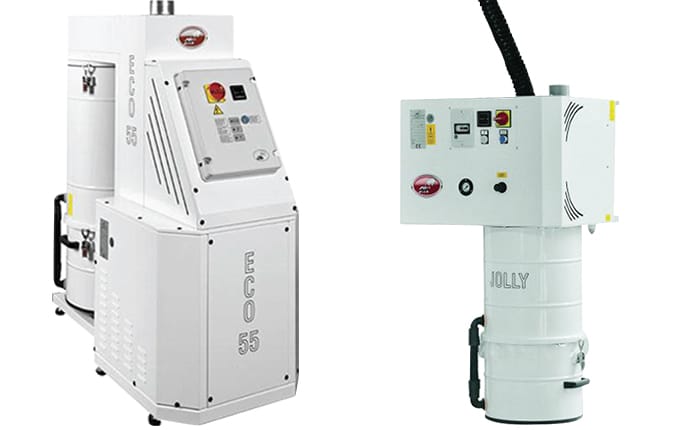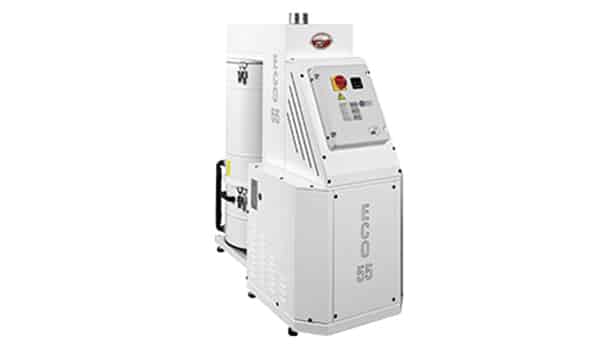 Side-channel blower units. Systems designed to take in dust resulting from sanding primer and fillers during surface treatment. They feature a cartridge filter cleaned by a timed pneumatic rotary nozzle. Dust is taken in and conveyed to a nylon bag which is very easy to remove ensuring ease of duct collection. The machine features a device for real-time check for the cartridge efficiency.
Technical Data
| | |
| --- | --- |
| Model | ECO 55 |
| Power kW | 5.5 |
| Current A | 13.3 |
| Power supply V | 400 |
| Frequency Hz | 50 |
| Max airflow mc/h | 520 |
| Max vacuum mbar | 300 |
| Filtering surface sq m | 7 |
| Noise dB(A) | 75 |
| Weight kg | 250 |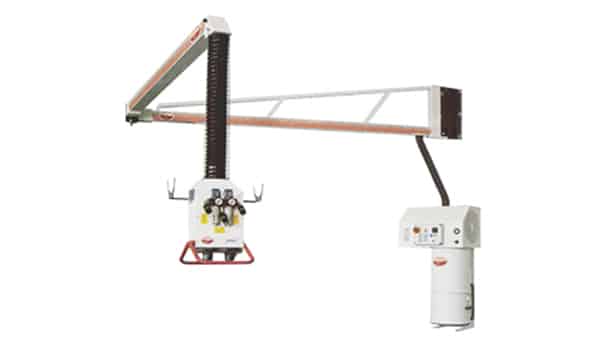 This model is designed to take in dust resulting from sanding of primer and fillers. It comes with a 6m arm, together with SR1 service control unit and accessories kit for installation.
Vacuum turbines feature dry operation so any maintenance is limited. Compact design motor unit: directly coupled, enclosed and with external surface ventilation. Automatic filter cleaning system with programmable time settings. Dust collector with nylon bag is easy to remove. The machine framework is steel coated with epoxy enamel paint. A version with suction unit automatic start-up directly by the tools is also available.
Technical Data
| | |
| --- | --- |
| Model | JOLLY |
| Power kW | 1.3 |
| Current A | 3.8 |
| Power Supply V | 400 |
| Frequency Hz | 50 |
| Max airflow mc/h | 210 |
| Max vacuum mbar | 170 |
| Filtering surface sq m | 2.5 |
| Noise dB(A) | 66 |
| Weight kg | 175 |