On-floor & above-ground options
Chemical storage box
Basin box
Vertical gravity separator
Pressure washer, lance & boom arm
Optional angled LED lighting
Control box with timer
Electronic motor protection
Simple / User friendly operation
Customisable layout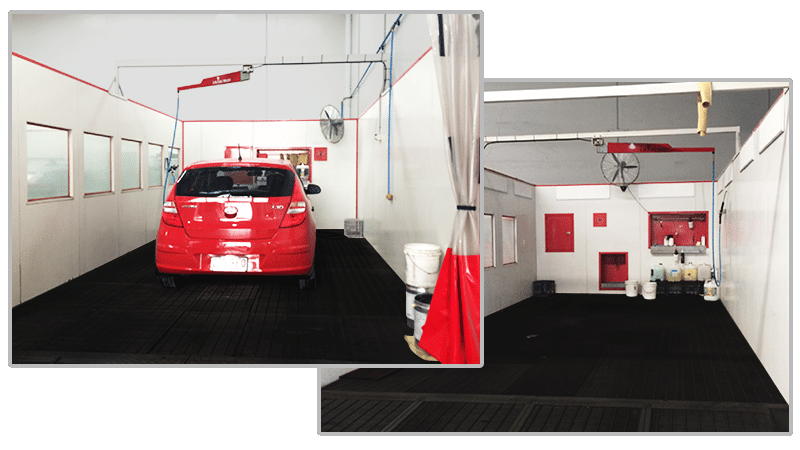 On-floor & Above-ground options
The Lowbake Washbay is available in 2 options, above ground and on floor.  The above ground option consists of 3 walls, galvanised base, galvanised floor grates, angled floor trays and a center sump.  Once discharged from the pressure washer lance, waster is distributed along the floor trays and into a sump located at the centre of the washbay.  Water is then distributed into an external polypit ready to be recycled through the Vertical Gravity Separator.
The above-ground Lowbake washbay is perfect for quick installations as no concrete works are required.
The Lowbake Washbay includes a control box with timer ensuring durability and safety of the equipment including thermal motor protection should there be an issue with the pump.  It also includes a lance and boom arm for easy manoeuvrability around the vehicle.
The Lowbake Washbay is the most durable and cost effective solution for all your detailing needs!
Annovi Reverberi pump
1450 Rpm & 12 L/Min
1450 PSI triple ceramic piston/plungers
Solid brass pump head
Solid steel 28 mm diameter direct drive shaft & bearings
Air cooled aluminium alloy housing, assembled with stainless steel & solid brass bolts
Designed with 2.2 KW/240 V electric Motors
3⁄8″ outlet & 1⁄2″ inlet to pump manifold
Liquid filled stainless steel gauge
Automatic stop/start with a protection
Shut-down system
12 months warranty
Vertical gravity separator system
The VGS operates by ingenious control of both fluid velocity and pressure. These forces gently coax non emulsified impurities from water by allowing high density contaminants to fall into a sludge retaining area at the bottom of the vessel, and oil droplets and low density suspended solids to rise to the top of the vessel. The oil and suspended solids then drain off into a waste tank for disposal.