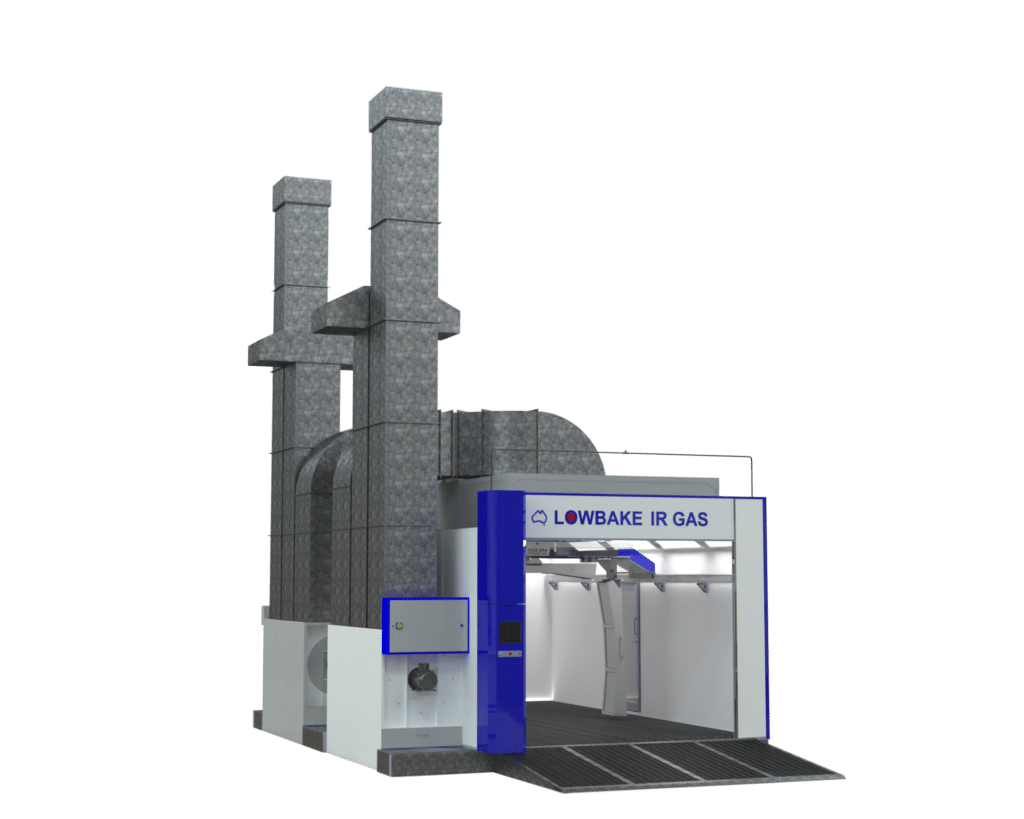 Electric Vehicle (EV) friendly
Single touch operator control panel for all operations
Low energy product friendly
Fast warm up times
Excellent quality in finishes
30% reduction in application time
Back-to-base monitoring
Remote diagnostics capability
Supported by all major paint companies
Spray and bake booth with heating during spray or bake mode
Direct-fired air heater
Enclosed cabin
Recirculation during bake cycle
LED Lighting as standard
The Lowbake GAS IR arch is Australia's answer to waterborne and solvent curing. Suitable for vehicle front, sides & bumper bars, GAS IR will increase work flow and productivity. GAS IR is supported by all major paint company's. The specially designed catalytic panels create a safe, no flame exothermic broadband heat wave. The heat generated works on the paint molecules, giving an even and faster cure compared to standard baking or electric infrared curing.
Reduce your bake time and save on energy
A combination of Lowbake and air drying technology to significantly cut your bake times. The Lowbake combination spray booth has four large direct drive motors, each driven by an electronic variable speed controller for maximum efficiency and total air flow control. Utilising recirculation during bake cycle, enjoy the benefits of  reduction of ever rising energy costs.

A trusted name for Spraybooth servicing and quality filter products
Total Spraybooth Care draws on over 25 years of serving the Australian paint shop industry, offering a complete range of roof and floor filter products at competitive rates and within short delivery times to help keep your business productive. Click
here
to know more.