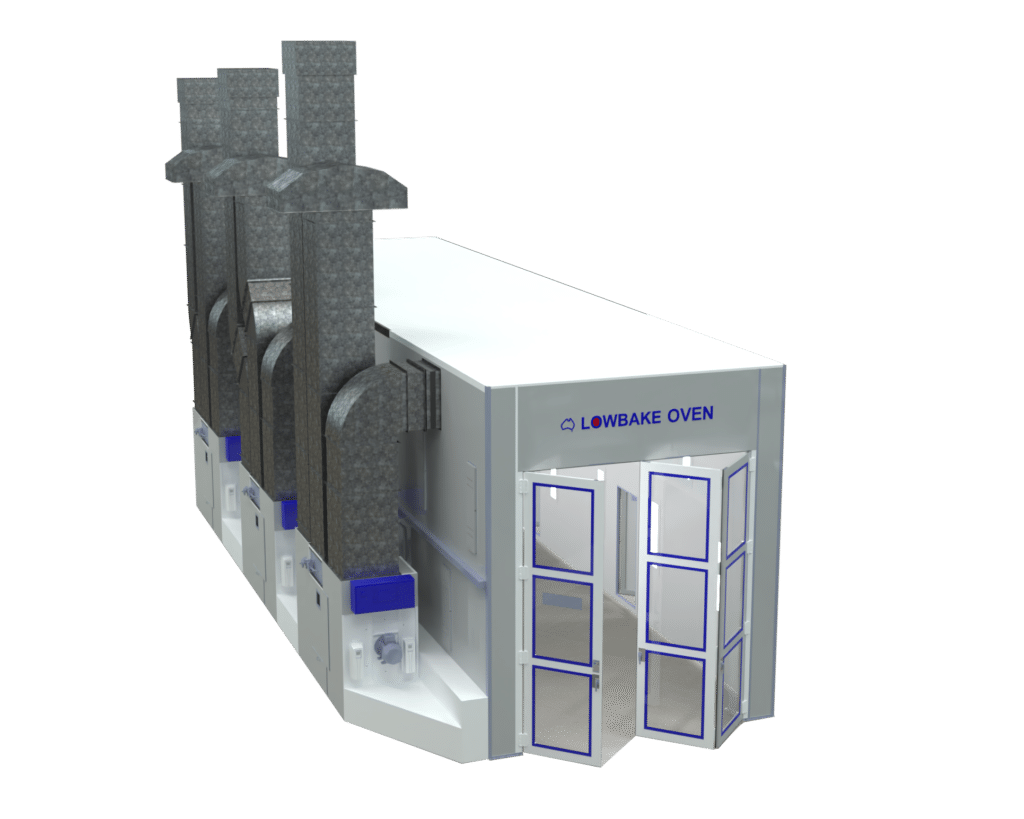 Full down draught option available
On floor down draught option available
Easy to change filter screens
Air points throughout
Available in custom sizes
Cabin pressure control
100W LED Panel lights (High efficiency and output)
Rigid all aluminium filter screens
Central control board/operator panel (remote board capable)
Rear vented lights all plug in not pressurized
Flexible coupling between booth cabin and machinery
Recirculation on bake cycle (energy saving)
Lowbake aluminium lightweight doors
Tailored to the customer requirements
Modular machinery type design
The Lowbake Truck and bus spray booth is the perfect companion for spray painting larger vehicles. Utilising a centrifugal fan blade coupled with a 7.5kW exhaust motor performance is maintained while keeping sound levels to a friendly level.
The fan and motor combination gives the operator a consistent airflow during spray painting operations to ensure compliance with the relevant standards.
Being a direct drive system, maintenance and replacement of fan belts become non-existent, reducing maintenance costs and requirements.
The Lowbake Truck and Bus spray booth uses a direct fired air heaters for efficient heating. Being situated in the air stream of the supply air to the cabin, air is effectively heated and directly transferred with no requirement to pass through a medium such as stainless steel like indirect fired heat exchangers. 
The Lowbake Truck and Bus spray booth incorporates Lowbake's recirculation heating system for further reduced heat up times and gas consumptions.
Removing the limitiations of floor grids, the Lowbake Truck and Bus booth is the perfect companion to heavy vehicles.
All of our spray booths come with high-output LED lighting panels as standard unique to Lowbake. Coming away from traditional low output tubes, Lowbake's LED lighting panels ensure there is optimum lighting throughout the cabin.
Quality truck & bus refinishing
The Lowbake Full Down Draught Truck and Bus Spraybooth is the first choice for high quality and efficient truck and bus refinishing. Alternative designs with roof mounted equipment are also available.
Engineered for quality painting
Each Lowbake Truck and Bus Spraybooth is engineered for quality painting with maximum safety.  The booth has rear vented lights all plugged in, not pressurized.
The Spraybooth has multiple fans and heaters mounted along either side of the cabin for an even airflow. The Spraybooth machinery is separate from the cabin, with flexible coupling between them.
All equipment, platforms and ladders are designed as per AS1657 of the Australian Standard. The Truck and Bus Spraybooth has heavy duty flooring with easy access to all filters and lights.
| | |
| --- | --- |
| Power Supply | 415 VAC + Neutral |
| Frequency | 50 Hz |
| Current | Supplied on design |
| Air Volume | Supplied on design |
| Gas Volume | Supplied on design |
| Gas Pressure | 2-7 kPa (Natural Gas) 70 kpa (LPG) |
| Noise | 75 dba |
| Packing | Multiple 120 iso Container |

A trusted name for Spraybooth servicing and quality filter products
Total Spraybooth Care draws on over 25 years of serving the Australian paint shop industry, offering a complete range of roof and floor filter products at competitive rates and within short delivery times to help keep your business productive. Click
here
to know more.