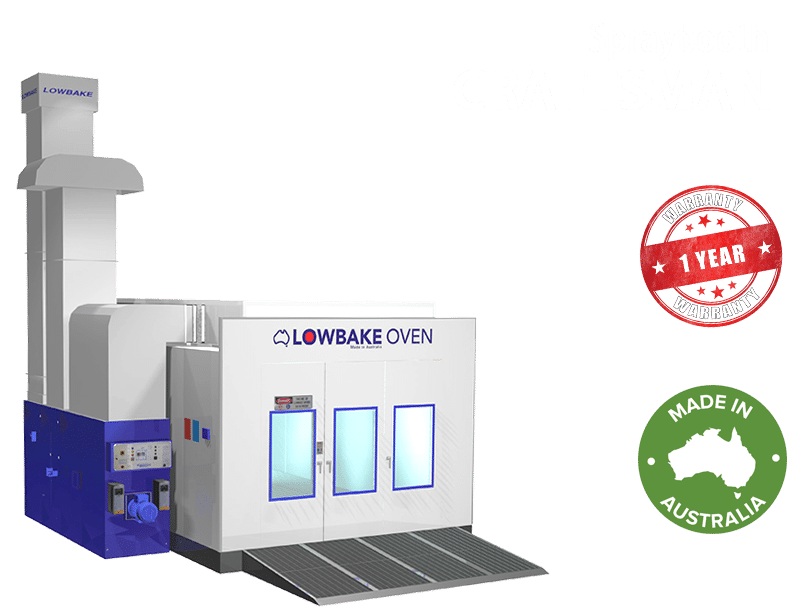 Large direct drive fan
Stainless steel burner
2 x 7.5 kw direct drive motors
6 tube T5 lighting (60 tube total)
Recirculating air on bake cycle
EU5 Ultimate ceiling filters
Pocket floor polyester exhaust filters
Direct fired gas heating system
Fully insulated and painted cabin
Controller for maximum efficiency and total airflow
V.S.D on inlet + exhaust motor (energy savings)
Double glazed windows on each door
Backward curve centrifugal air fans
MEETS AUSTRALIAN STANDARDS
HIGH PERFORMANCE & RELIABILITY
Low running costs
The Lowbake Craftsman Spraybooth and baking oven is your best option for optimum painting conditions with low running and manufacturing costs. There is a V.S.D on inlet and an exhaust motor for energy savings.
Customise to your needs
The spraybooth can be installed as either an above ground unit or a set down unit.  The set down unit consists of a cabin and concrete pit, this provides level entry without the need for ramps. The heating and ventilation equipment can be mounted on either side of the cabin or at the rear if required.
Total airflow control
The Lowbake Craftsman Spraybooth has 2 large 7.5kw fans each driven by an electronic variable speed controller for maximum efficiency and total air flow control. The Lowbake Craftsman Spraybooth has a unique gas direct fired heating system.
Rapid curing
This system provides 80% energy re-circulation in bake mode with high cabin air speed which is essential for fast curing of solvent and water-borne paint finishes. There is a controller for maximum efficiency and total airflow.
| | |
| --- | --- |
| Power Supply | 415 volts |
| Frequency | 50 hz |
| Current | 35 amps |
| Air Volume | 27,000 m/h |
| Gas Volume | 700 mj/h |
| Gas Pressure | 2-7 kpa |
| Noise | 75 dba |
| Floor Load | 3000 kg |
| Packing | 1×120 iso Container |
A trusted name for Spraybooth servicing and quality filter products
Total Spraybooth Care draws on over 25 years of serving the Australian paint shop industry, offering a complete range of roof and floor filter products at competitive rates and within short delivery times to help keep your business productive. Click here to know more.
Craftsman Spraybooth – Brochure