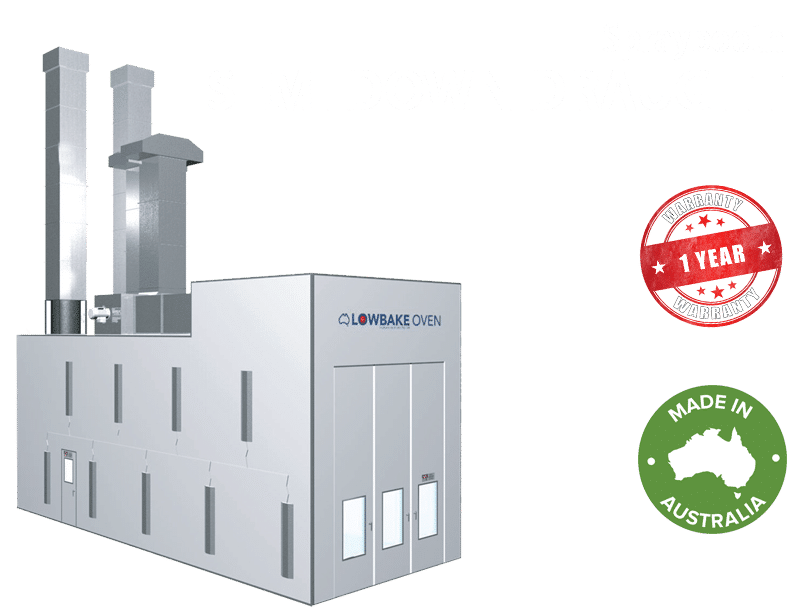 Axial exhaust fan
Direct fired gas burner
2 Large 4kw exhaust fans
2 Large 7.5kw supply fans
Full automatic switchboard
Roof mounted machinery
Hand Rails, Platform + Ladder
72 Tube hinged rear access lighting
All doors interlocked to cabin air regulator
Aluminium filter frames with Viledon filter
3 personnel exit doors with half glass windows
MEETS AUSTRALIAN STANDARDS
HIGH PERFORMANCE & RELIABILITY
Roof-mounted machinery
The Lowbake Semi Down Draught Spraybooth has roof mounted machinery with a fully automatic switchboard. This is further complemented with 3 personnel exit doors with half glass windows.
Customised to your needs
This Semi Down Draught Truck and Bus Spraybooth can be supplied in many sizes to suit your spray painting requirements. The booth has engineered fans and heating systems in accordance with AS/NZS 4114.
Caged access ladders
All Lowbake Semi Down Draught Truck and Bus Booths are OH&S compliant with caged access ladders and handrails. These caged ladders and handrails are in place to provide safe access, if and when maintenance is required.
Swinging doors
The Lowbake Semi Down Draught Truck and Bus Spraybooth provides '4 tube' or '6 tube' fluorescent lighting either side of the booth with swinging doors for easy access for maintenance.
Front View (Doors Closed)
Power Supply
415 volts
Technical details supplied on design
A trusted name for Spraybooth servicing and quality filter products
Total Spraybooth Care draws on over 25 years of serving the Australian paint shop industry, offering a complete range of roof and floor filter products at competitive rates and within short delivery times to help keep your business productive. Click here to know more.