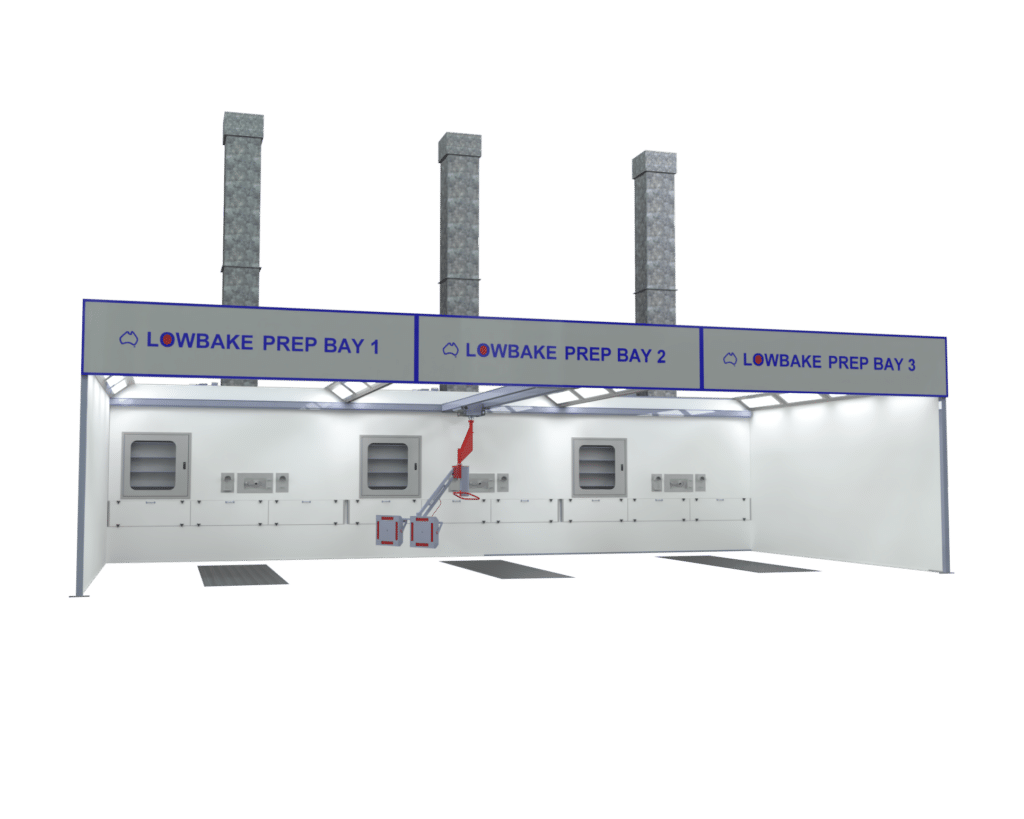 Full down draught
Galvanised ergonomic flooring
Rear wall mounted side filters
Strong exhaust fans to ensure correct ventilation
Super quiet operation
Softstart to reduce energy consumption
Breathe and spray air system
Lowbake 100W LED Panel lights
Customisable bay quantity
Perfect for the use of sanding and paint spotting operations
Maintains a clean working environment
Optional – Turbine ducted vacuum integrated to the preparation bay
Optional – Over head angled lighting
Optional – Rail mounted electric infrared/uv curing system
Optional – Lockable and sealed tool cupboards
The Lowbake full down draught preparation bay is a cost efficient area suitable for sanding preparation and paint spotting on vehicles and parts. This particular design either utilises a concrete pit or a built plenum above ground level. The full down draught preparation bay has a ceiling with lights and the airflow is horizontal across the vehicle. The exhaust is through low level polyester exhaust filters. The prep bay can be fitted with a ducted vacuum system with an integrated spray air in each bay for efficiency.
All Lowbake preparation bays are completely customisable to suit the needs and wants of our clients.
Highly Organised & Ergonomic System
This proven design provides the ideal work environment for all your panel fitting, sanding, priming and paint spotting of motor vehicles and parts. The highly organised and ergonomic system allows maximum output in any paint shop.
Overhead rail system compatible
Perfect for preparation bays, the Lowbake electric ir/uv units are mountable from an overhead rail, taking away all cables running across busy workshop floors.
Up to two units are mountable overhead. Moving around the preparation bays are almost effortless, unlike mobile units which have to travel across grid filled flooring.
Full down draught preparation bay
Complete your details below to learn more
Full down draught preparation bay