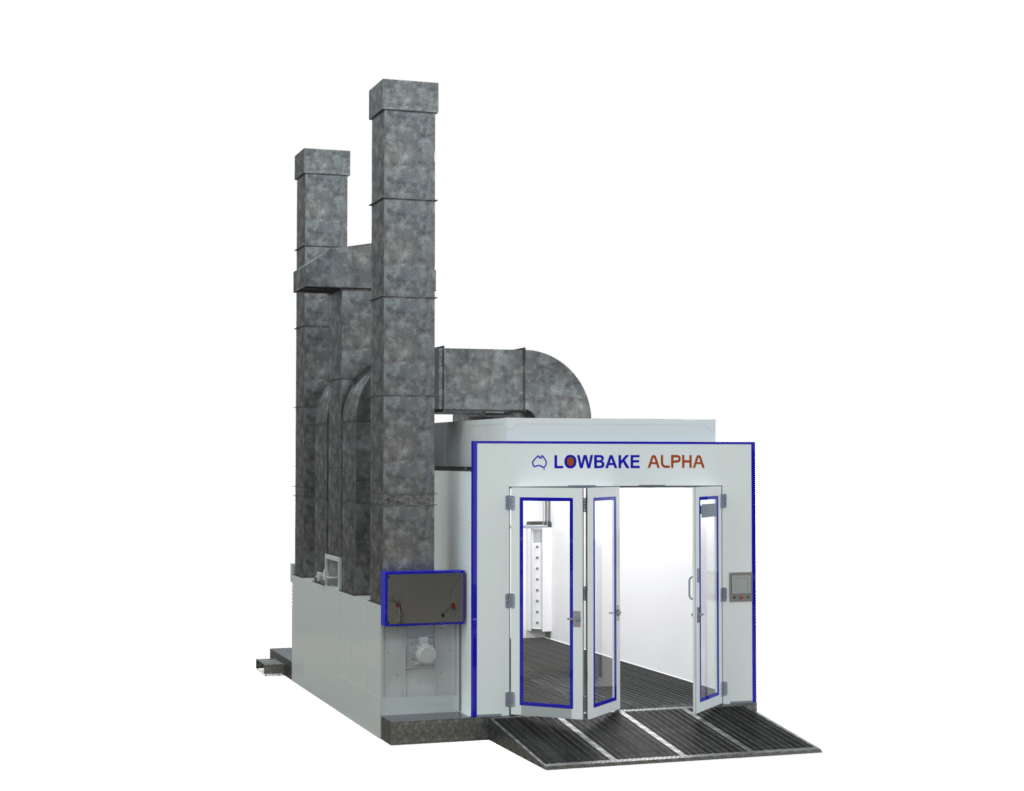 Large direct drive fans
Suitable for larger cabins
High airflow ventilation system
Rapid Air Drying System
Stainless steel burner
4 x 5.5 kw direct drive motors
High output 100W LED Lighting panels (Unique to Lowbake)
Recirculating air on bake cycle
EU5 Ultimate ceiling filters
Pocket floor polyester exhaust filters
Direct fired gas heating system
Fully insulated and painted cabin
PLC controlled / back-to-base monitoring
V.S.D on inlet + exhaust motor (energy savings)
Double glazed windows on each door
Backwards inclined centrifugal air fans
Water base setup
The Lowbake Alpha Elite Spraybooth and baking oven is your best option for optimum painting conditions with low running costs & high performance. 
Our spray booths are completely customisable to suit the needs of the client. From internal pneumatic ramps to various lengths and heights.
A combination of Lowbake and air drying technology to significantly reduce your bake times and energy consumption.
Intelligent curing with RADS
Reduce curing times of waterborne paints up to 30% with the Lowbake RADS System.
Control at the fingertips
Through the use of our user-friendly control system, operators are given total control over the equipment. 
All aspects of the machinery from status to setup the Lowbake control system has all the necessary information in front of the operator right when its needed.
All of our spray booths come with high-output LED lighting panels as standard unique to Lowbake. Coming away from traditional low output tubes, Lowbake's LED lighting panels ensure there is optimum lighting throughout the cabin.
Back-to-base monitoring and support
The Alpha spray booth offers an unmatched level of support. Through the use of secure technologies, our technicians are able to remotely login and diagnose any issues the equipment may have, ensuring that technicians are armed with the correct replacement parts or even potentially fixing the problems remotely.
A spray booth is one of the most important tools in the repair process, reliablity and reducing down time to the minimum is crucial and with the back-to-base monitoring and support of our technicians you can rest easy knowing help is always a click away.
The Lowbake Alpha spray booth comes with RADS (Rapid Air Drying System) by default. Reducing curing times of waterbourne paints by up to 30% the RADS system integrates seamlessly into the touchscreen, offering total control to the operator to minimise end-to-end process times.
| | |
| --- | --- |
| Power Supply | 415 VAC + Neutral |
| Frequency | 50 hz |
| Current | 55 amps |
| Air Volume | 28,800 m3/h |
| Gas Volume | 1000 mj/h |
| Gas Pressure | 2-7 kpa (Natural Gas) 70 kpa (LPG) |
| Noise | 75 dba |
| Floor Load | 2000 kg |
| Packing | 1×120 iso Container |

A trusted name for Spraybooth servicing and quality filter products
Total Spraybooth Care draws on over 25 years of serving the Australian paint shop industry, offering a complete range of roof and floor filter products at competitive rates and within short delivery times to help keep your business productive. Click
here
to know more.
Complete your details below to learn more