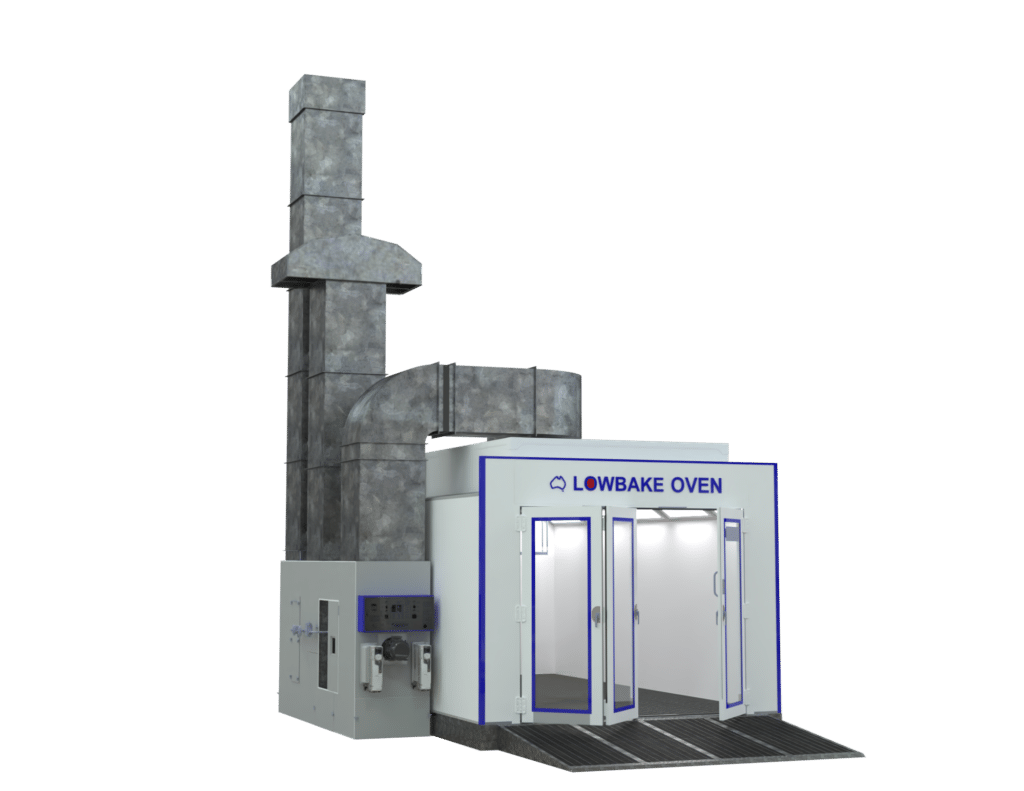 Large direct drive fan
Stainless steel burner
2 x 7.5 kw direct drive motors
10 x 100W LED Lighting panels
Recirculating air on bake cycle
EU5 Ultimate ceiling filters
Pocket floor polyester exhaust filters
Direct fired gas heating system
Fully insulated and painted cabin
User-friendly control panel
Controller for maximum efficiency and total airflow
V.S.D on inlet + exhaust motor (energy savings)
Double glazed windows on each door
Backwards inclined centrifugal air fans
Customisable to your needs
The spraybooth can be installed as either an above ground unit or a in-ground unit.  The in-ground option consists of a cabin and concrete pit, this provides level entry without the need for ramps that possibly encroach on valuable workshop space.
The Craftsman spray booth can be integrated with intelligent Lowbake RADS technology, further reducing curing of waterborne paints up to 30%.
The Craftsman spray booth uses a direct fired air heater for efficient heating of the spray booth. Being situated in the air stream of supply air to the cabin, air is effectively heated and directly transferred with no requirement to pass through a medium such as stainless steel like indirect fired heat exchangers. 
Coupled with Lowbake's recirculation technology, energy consumption is reduced to the minimum.
All of our spray booths come with high-output LED lighting panels as standard unique to Lowbake. Coming away from traditional low output tubes, Lowbake's LED lighting panels ensure there is optimum lighting throughout the cabin.
The Lowbake Craftsman Spraybooth has an iconic and unique user friendly control panel where the operator has total control of all functions of the spray booth. Guided by a quick observation indicator panel, the status of the machine is always in plain sight, so you know exactly when and what to expect while using the Lowbake Craftsman.
| | |
| --- | --- |
| Power Supply | 415 VAC + Neutral |
| Frequency | 50 hz |
| Current | 35 amps |
| Air Volume | 22,000 m3/h |
| Gas Volume | 700 mj/h |
| Gas Pressure | 2-7 kpa (Natural Gas) 70 kpa (LPG) |
| Noise | 75 dba |
| Floor Load | 2000 kg |
| Packing | 1×120 iso Container |

A trusted name for Spraybooth servicing and quality filter products
Total Spraybooth Care draws on over 25 years of serving the Australian paint shop industry, offering a complete range of roof and floor filter products at competitive rates and within short delivery times to help keep your business productive. Click
here
to know more.
Complete your details below to learn more